The Origin of Ideas:
Blending, Creativity, and the Human Spark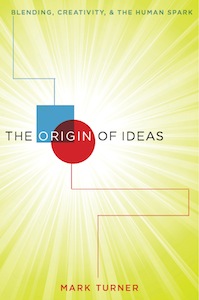 From Oxford University Press, January 2014. Available in hardcover, paperback, and Kindle editions.
"Mark Turner, in his new book The Origin of Ideas: Blending, Creativity, and the Human Spark, describes, in a wealth of fascinating detail, his view that humans are innovative and good at creative thinking due to the ability of our brains to blend two or more ideas and create a new idea. Only when evolution gave us brains with this new ability could we make vast cultural advances. . . . While The Origin of Ideas is not a simple book, and the concept of blending is much more sophisticated than it may seem initially, Turner leads the reader step by step, using familiar concepts to enhance understanding of those more complex. If you're intrigued by how creativity happens, this smoothly written volume should be in your collection. " — Psychology Today
"Turner probes the nature of creativity. Recommended. All readers."—Choice, August 2014.
"Turner makes a cogent and often colorfully argued case for blending's importance as crucial to the development of new ideas and imaginative works." —Publisher's Weekly.
"Mark Turner should be named poet laureate of cognitive science. In The Origin of Ideas, Turner presents a cognitive science of creative thought using persuasive examples from areas such as cognitive linguistics and neuroscience. He argues how creative thinking, in the form of advanced conceptual blending, underlies human endeavors ranging from ancient sculpture to modern economics. In this manner, Turner profoundly describes a key step in the grand scope of human cognitive development—an achievement he carries out with sparkling clarity and inimitable panache." — D. Fox Harrell, Associate Professor of Digital Media, Comparative Media Studies Program & Computer Science and Artificial Intelligence Laboratory, MIT.

"The question 'What makes us human?' has been asked as long as there are human records. Mark Turner's answer is that blending is the pivotal feature of the human mind and innovation a necessary product of the blending mind. Rather than taking a reductionist path with a limited number of brain modules and processes, as so many of today's cognitive scientists do, Turner sets out to demonstrate the full breadth of the working of the human mind, applying blending theory to the understanding of mind itself; to conceptions of identity and self; to creativity, art, fantasy, metaphor, narrative, and an abundance of other phenomena. Turner blends science and art elegantly to create new spaces of understanding in the reader. Highly recommended!" — Stephen von Tetzchner, Professor, Department of Psychology, University of Oslo, Norway.